Here an easy-to-follow, step-by-step procedure on how you turn a word document into an eBook. Read below to know how to do it.
Step 1: Read the article you want to turn into an eBook 2-3 times. First time read it carefully to get an understanding what it is all about and look for mistakes. Second time, if not already done, try to separate the article into blocks, specific parts and try to find headlines for it. Third time read the new-structured article and look if it makes sense.
Step 2: Create a copy of the eBook template, which can be found below or here : New Volume (E:) - Whitehat - CloudStation - Marketing - Hubspot - eBooks - HubSpot Ebook Templates - Template 2 - PPT_Template_2 - Whitehat and rename it with the title of the article and call it: Title_eBook_v1
Step 3: Open the newly created PowerPoint document and change the title on the first page. If you need a subheader, name it, otherwise you can delete this part.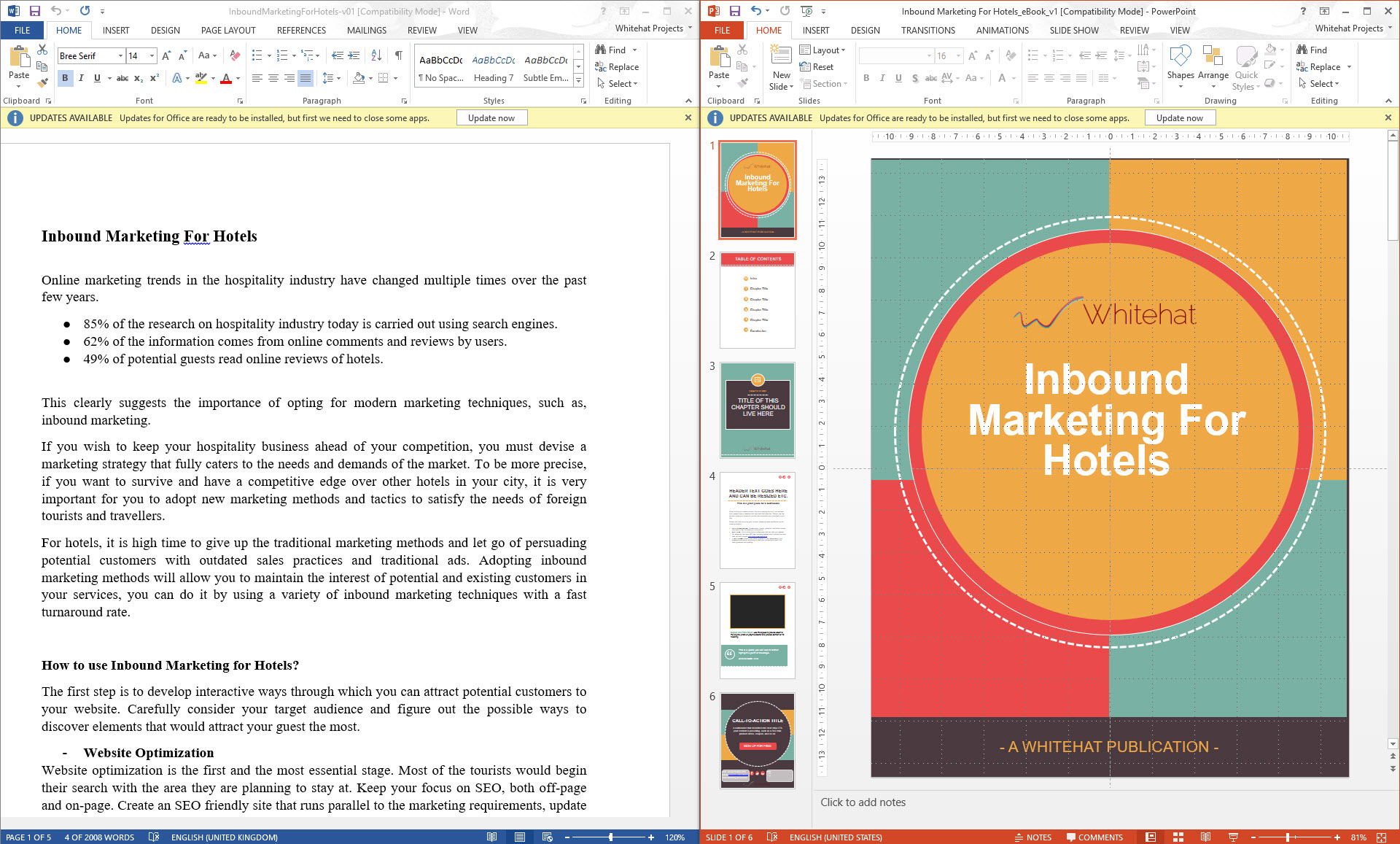 Step 4: If the table of contents is settled yet, you can add the points now or you can do it later after you finished all pages.
Step 5: If you want to add an introduction, you can duplicate page 4 and relocate the copy as page number 3. Change the title into Introduction. Please make sure, that you always duplicate or copy-paste the original pages to create new ones. Through that, you ensure that all the links will work, which are included in the social buttons or the logo. Moreover, you have to make sure, that the format is always the same and that you are using the same font and the same font size throughout the whole presentation.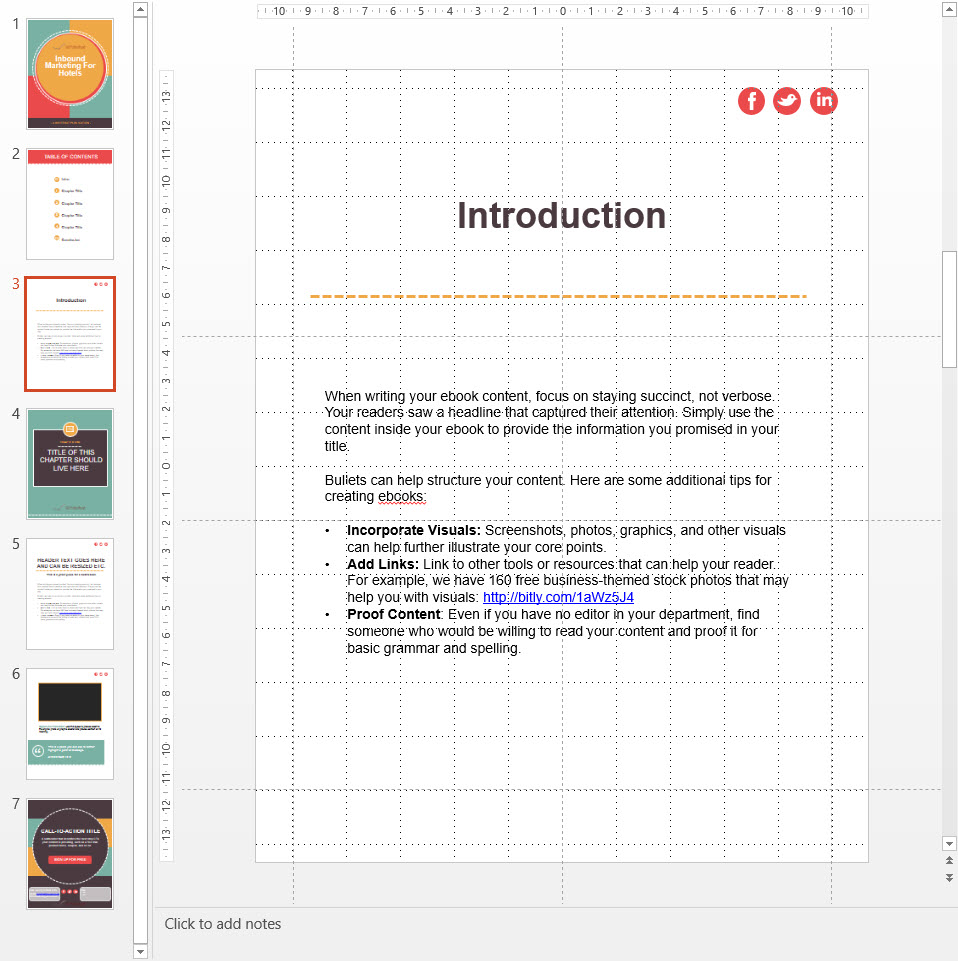 Step 6: Insert your introductional text but remember not to add too much text. A good rule is, to split the available space into two, one half for text and one half for a picture. Also, try to insert a picture on every page. Pictures have to be renamed to be fit for SEO: file names should be regular English words, separated by '-' and should be descriptive and related to the subject being discussed.
Switch the positions from text and pictures from time to time to make it more interesting.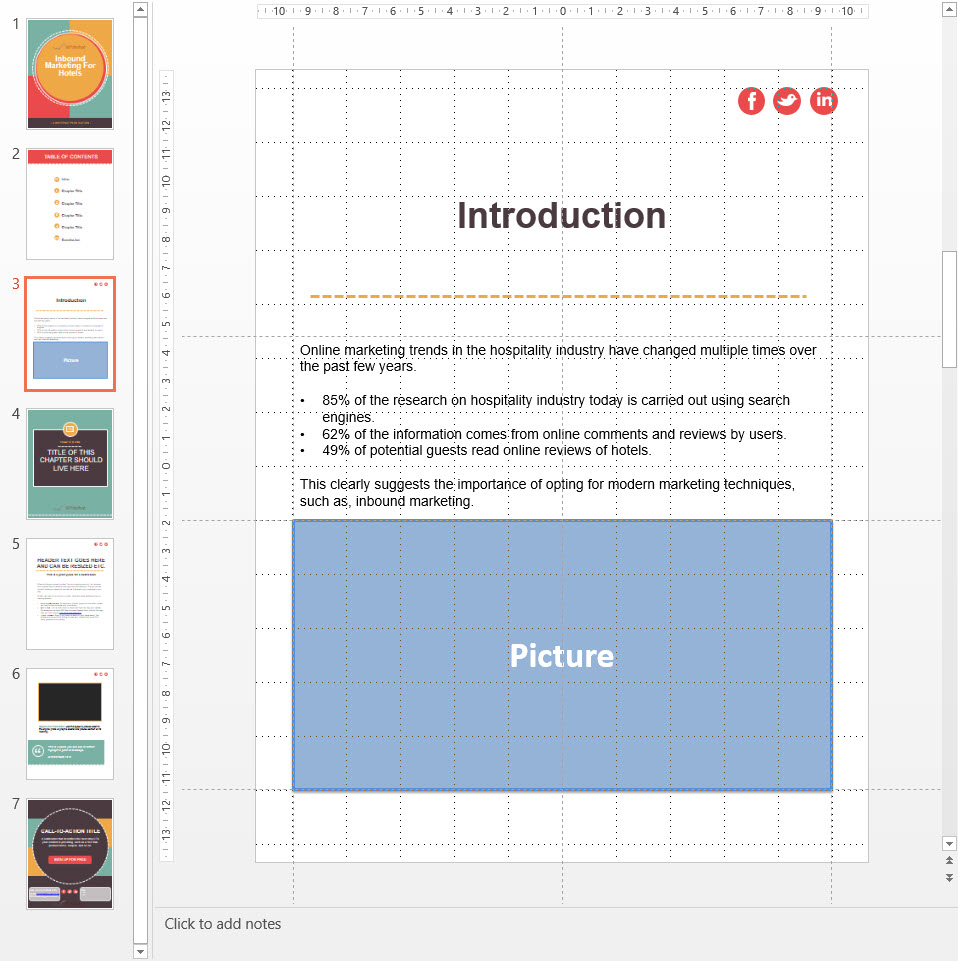 Good sources for pictures can be found here: https://blog.whitehat-seo.co.uk/inbound-marketing-resources-the-top-7-websites-for-royalty-free-stock-images
But I recommend focusing on the text first and once that is done, I would search for appropriate pictures.
Step 7: Go on and name your first chapter.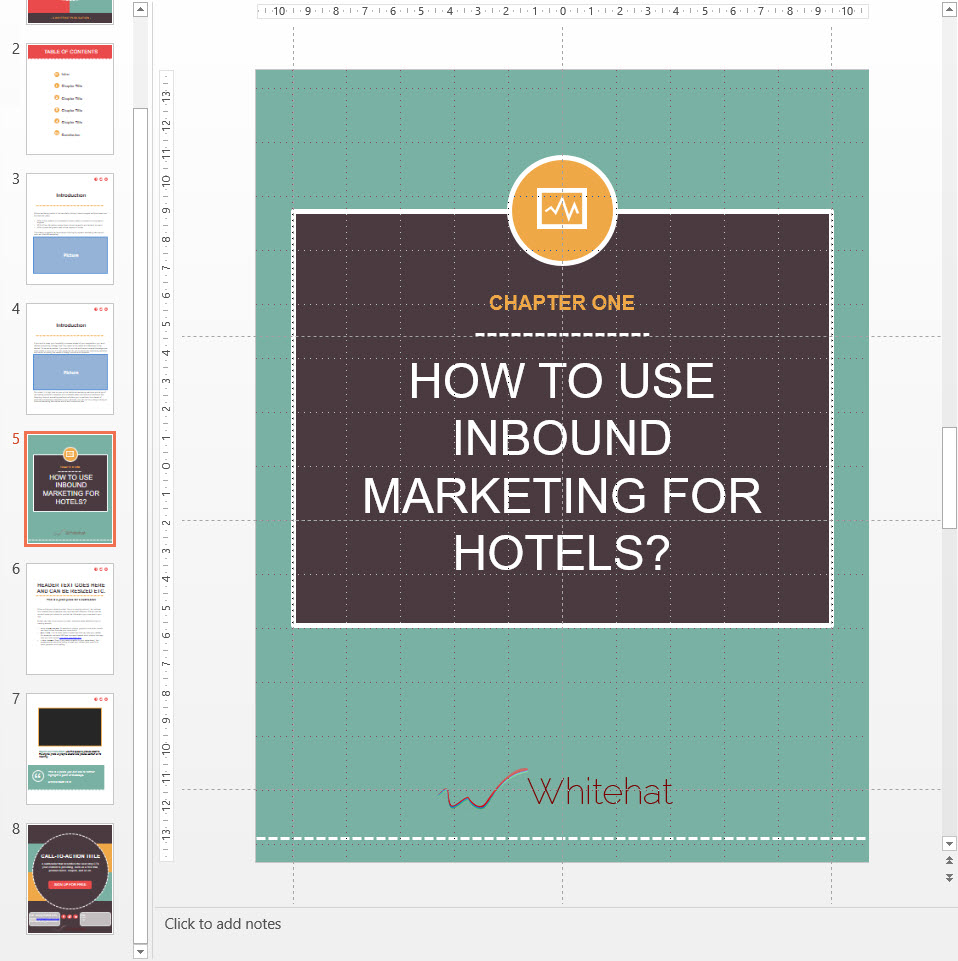 Step 8: Create the first page of Chapter 1 by duplicating your introduction page and relocate it. Change the headline into the title of the chapter and optionally add a subtitle.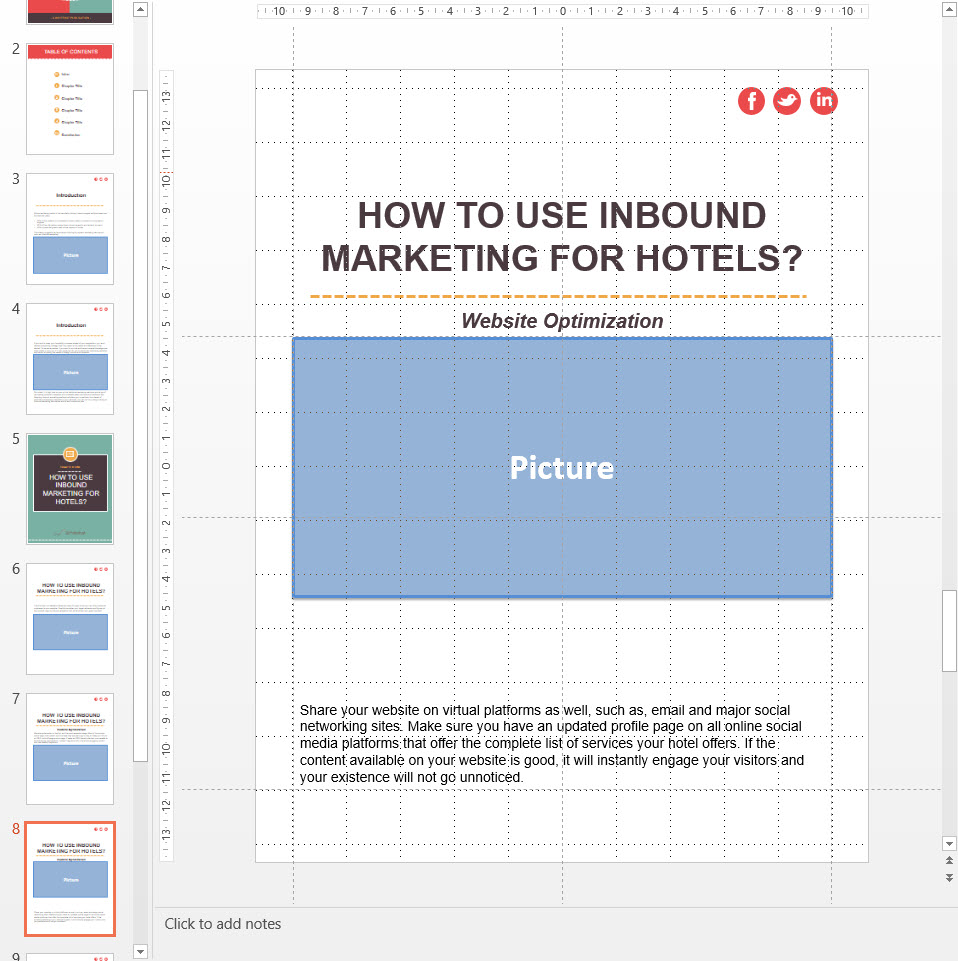 Step 9: Repeat Step 7 and Step 8 until you created the whole content for the eBook and you reach the last page.
Step 10: If not done before, you can now add the Table of Contents on the second page.
Step 11: Now search for an appropriate picture that is related to the topic. Also try to include graphs, statistics and other stuff to underline the message of the article.
You can use this source for your picture search: https://blog.whitehat-seo.co.uk/inbound-marketing-resources-the-top-7-websites-for-royalty-free-stock-images
You can also search for royalty free pictures within Google to find pictures, which are free to use but make sure you read the guidelines before using them (you might have to quote the editor/author of the picture).
Other good pictures/graphs from HubSpot can be found here: New Volume (E:) - Whitehat - CloudStation - Users - Peter - 100-Stats-Charts-and-Graphs
Try to add pictures to nearly every side, it makes it more interesting for the reader and can also help the article to underline it's message. You can insert a picture on the table of contents page as an background.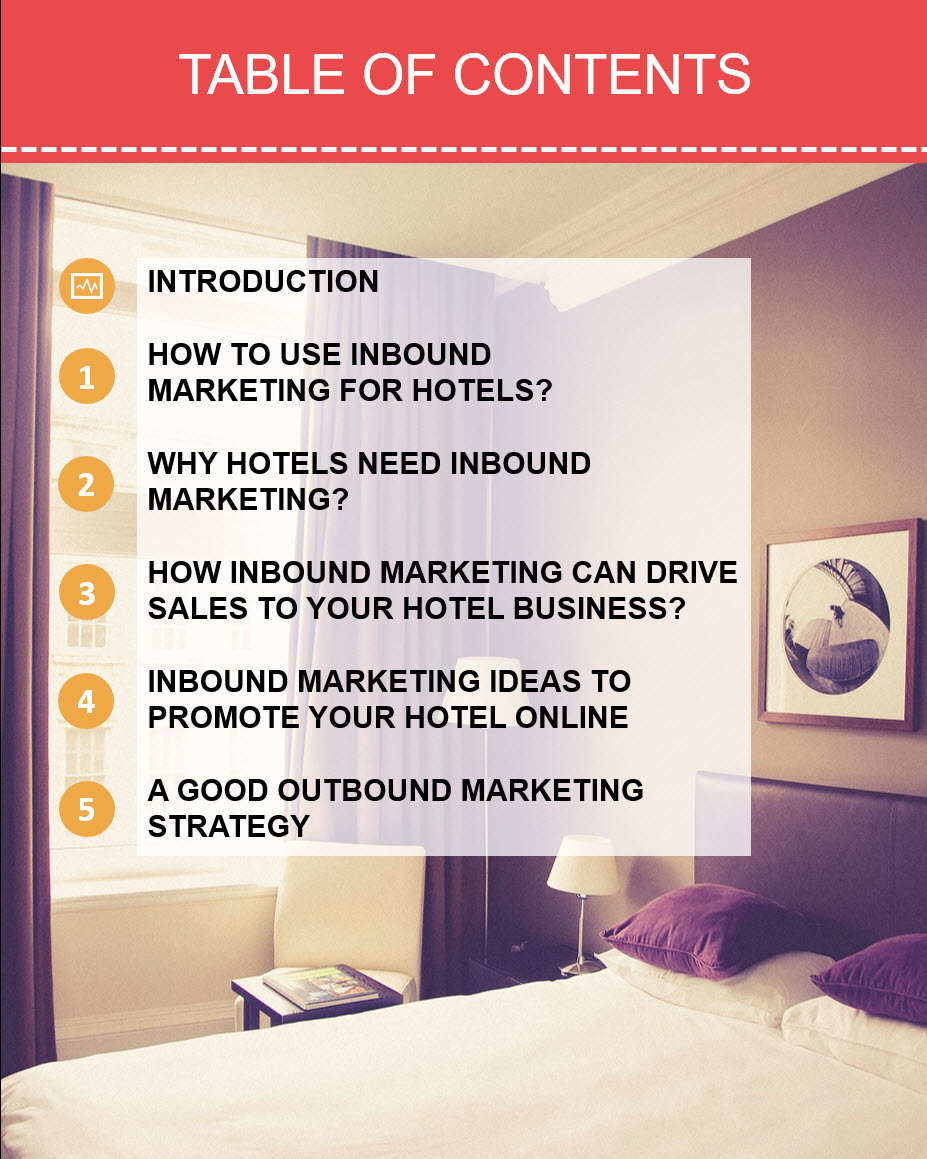 Step 12: You can also try to use a picture as a background for the last page and also the first page.
Step 13: After finishing the PowerPoint version of the eBook, review the whole presentation and check the format as well as the content and correct it if necessary.

That's it! You've just turned your word document into an eBook.

Need help? Contact us through:
Phone: +44 20 8834 4795
Email: help@whitehat-seo.co.uk